Studio apartment Ulivo8: Prices & Conditions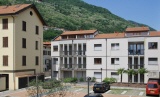 General conditions
In order to rent studio apartment Ulivo8, the tenant has to agree to the general conditions. A copy of these conditions can be downloaded here ...


Rental rates studio apartment Ulivo8
-- Low season: November until April
-- Mid season: May Jun. Sep. Oct.
-- High season: July and August

-- Cleaning and towelpackage

-- Parking place (not required)

-- Have you been our guest before?
€ 350,-- per week / € 50,-- per night.
€ 420,-- per week / € 60,-- per night.
€ 490,-- per week / € 70,-- per night.

€ 50,-- for the 1st week. For every next week:
€ 25,-- for each of these extra weeks.
€ 10,-- per day, plus an additional deposit of € 25,--
for the transponder.
Great! Then we offer 10% discount on weekly rental rate.
Included in above mentioned rates are:
-- heating, water, electricity and gas;
-- use of the television and WIFI.

Other info
-- There is a washing machine in the apartment building that can be used for an additional charge.