Acquaseria: gastronomy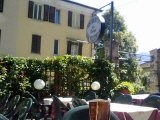 Address: Via Statale, No. 59. Tel.. +39 (0) 344 517052. Da Luigi is located near Lake Como. It's just a matter of crossing the street and you're on a small pebble beach on the shore of Lake Como. The menu at Da Luigi is traditional (pizzas, pastas, fish, meats and fine wines), and versatile. Da Luigi offers fine lunches and ditto dinners at very reasonable prices. You must try the "Missoltini" a not to be sneezed local delicacy. Closed on Tuesdays. Other days open from 11-15 hours and 18-24 hours.
Trattoria Pizzeria dei Platani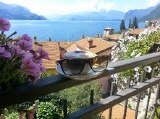 Address: Via Statale Regina, 41, Localita Rezzonico, 22 010 San Siro. Tel: +39 (0) 3903 4450139. A traditional Italian restaurant, situated halfway up the road from Como to the castle. Both inside and outside the restaurant, you have a beautiful view of Lake Como. And for less than 6 euros you can have a tasty pizza Margeritha served. Besides, various salads and local wine are to be recommended as well. In principle: every day opened from 09 to 14 hours and from 17 to 22 hours.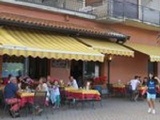 Address: Via Molino Nuovo, No. 7. Tel. +39 (0) 344 50356. Crème Caramel is a small family restaurant in Acquaseria, located directly at the shore of Lake Como. They offer an extensive menu. Delicious food at a reasonable price is guaranteed. Reservation required !!! An ideal location for a "seafood" based lunch. But a tasty and healthy pizza belongs to the possibilities as well. Try the "Missoltini" a not to be sneezed local delicacy. On Wednesdays closed. Other days open from 12-14 hours and 19-22 hours.